About Dormitory

Hostel Wasabi offers simple, affordable accommodation without meals, also referred to as backpacker or dormitory style accommodation or as a "Hostel." Our services are not the same as a hotel or ryokan, but we provide accommodation at low prices. Plus, hostels give you the chance to interact with other guests. Most of our rooms are shared, single-sex rooms called dormitories, and we also offer private rooms. We look forward to seeing all of you here at Hostel Wasabi!
What kind of accommodation is a dormitory?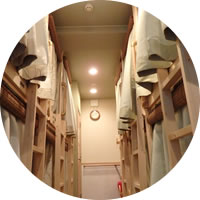 Dormitories are also known by several other names, such as Guest Houses, Hostels, and Backpackers Houses.Essentially, the word dormitory refers to low-cost accommodations featuring shared rooms with several bunk-beds per room based on room size, but here at WASABI, each bed has its own walls and allows you to maintain a sense of privacy during your stay.The toilets and sinks, and showers are communal.For more information, please refer to Facility, and the Floor Map.
What kind of guests stay at dormitories?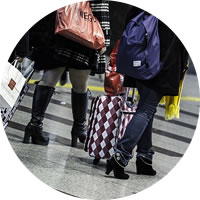 Travelers carrying large backpacks on long trips are called backpackers and they frequently use dormitory-style accommodations where they can stay at a reasonable price.The price is not the only reason backpackers choose to lodge at dormitories – they also exchange information with other travelers from around the world that they meet, go out for drinks with the other guests, occasionally go sightseeing together, and enjoy interacting with each other.In Europe and the Americas, most large cities and sightseeing spots have dormitory-style accommodations and this kind of travel is not rare.For those traveling alone, dormitories are perhaps more suitable than hotels or traditional inns.
I've heard that there are many guests from around the world, but I cannot speak English at all.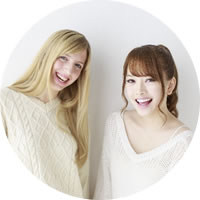 Though dormitories are still quite unfamiliar in Japan, in Europe and the Americas, young travelers generally stay at dormitories.Foreign travelers are accustomed to staying in dormitories and will not interfere with you more than necessary.What you should keep in mind is that they like Japan and chose to come to Japan to travel.If you conjure up the courage to open yourself up, they will be happy to talk with you.Even if you can't speak the language, you should be able to communicate through smiles, gestures, and a touch of courage.
Is it clean?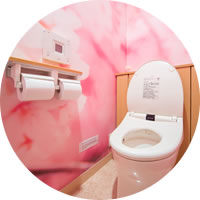 We, of course, clean the whole building thoroughly prior to check-in, and in addition we do thorough sweeps three times a day around the toilets and other areas where there is running water.We take great care in assuring that all of our guests use the facilities comfortably and cleanly.Since there are an indefinite number of guests using our accommodations, on the off-chance that something does come up, please let us know at the front desk.
What should I do when I want to change clothes?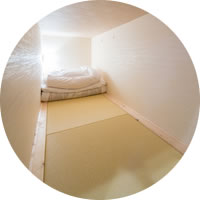 All beds in WASABI's dormitories are partitioned so there is no need for concern.For those who have trouble changing on the bed, please use the shower room's changing room.
Are there women-only rooms?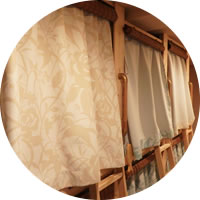 Yes, WASABI does have a women-only floor.Please indicate your preference for women-only when you make your reservation.For more information, please refer to the Facility, and Room page.Even if there are no vacancies in the women-only dormitory when you are making your reservation, we will make arrangements for you when an opening appears if you inform us of your wish to be moved.
Are there any private rooms that are not dormitory-style?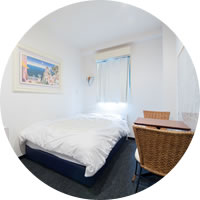 WASABI Nippori also offers private rooms with a bathroom and toilet.The private rooms are used by guests who would like to stay at a dormitory but are concerned about privacy and guests who would like to be alone with their spouses and families around bedtime.For more information, please refer to the Facility, and Room page.Since there are a limited number of private rooms available, we recommend that you make your reservations early.
What should I do if my roommates are being noisy?
If you request that they keep the noise level down or encourage them to move to the communal space, most guests will do so amicably. If you find it difficult to ask directly or if it seems that your requests will not be heard, consult with us at the front desk. Also, if you have any concerns about snoring, we have ear-plugs available for sale at the front desk.
What should I be aware of when staying at a dormitory?
If there are other guests that have gone to bed before you, keep your noise levels down and move to the lobby if you are talking.Also, we keep costs down by having self-service wherever possible, so guests will have to put sheets on the beds on their own. For the benefit of the guests after you, be sure to put on both the top and bottom sheets and pillow case, and return them to the front desk upon checkout.Guests are asked to bring their own amenities such as towels and toothbrushes (though we do have towels that can be borrowed for a fee).
About Amenities and Services

Sharing a room with strangers, what should I do with my valuables?
Guests are responsible for managing their own valuables. Please use the lockers in the dormitory or the building.We will store items that do not fit in the lockers in our luggage room; guests uncomfortable with the luggage room should entrust their valuables to the staff at the front desk.
I'm traveling by motorcycle/bicycle. Is there anywhere to park?
Yes. We have room for bicycles on our premises.However, since there are a limited number of spaces available, we ask that guests let us know prior to their stay.
Do you have a shuttle service?
We do not offer shuttle service. Since WASABI Nippori is a 10-minute walk from Nippori Station or a one-minute walk from Mikawashima Station, we ask that our guests come via the station.For directions from the station, please refer to our Access page.
How do I pay?
On arrival, please pay the full price of your stay in cash (Japanese Yen) or with credit card (Visa or Mastercard).
Do you have amenities such as towels?
Guests can find body soap and shampoo in the shower room. Bath towels can be borrowed at the reception desk for 200 yen. Also, we sell razors for 100 yen.
Do you have Internet access?
Yes. We have several computers available in the communal space that guests are free to use. Please cooperate with the other guests during busy hours. Guests traveling with laptop computers may use the free Wi-Fi available in all rooms. We will give the security code at the reception desk.
Can I smoke?
The whole building is non-smoking, but we do have a smoking area available.