A brand new Wasabi point card!
A brand new Wasabi point card!

The point cards will be issued to customers who stay at "Hostel Wasabi".
Stay for 10 nights and receive a one night stay for free!
Highly recommeneded for all those who plan to stay at Wasabi hostels in other locations across Japan.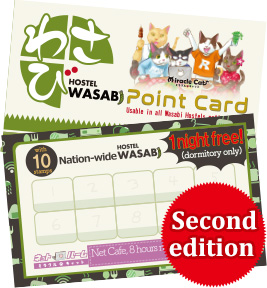 How to use the campaign?
Stay at Hostel Wasabi for 10 nights
Avail a free one night stay in any location across Japan.
Make a reservation at the front desk, mail or telephone
Free stay
Important notes
Point cards are distributed at all Hostel Wasabi locations.
After the point card is issued and stamped twice, only reservations from the official site, telephone and direct reservations at the front desk will be considered for receiving stamps.
The first stamp will be stamped regardless of the reservation site.
To avail benefits, please make a reservation directly at the reception, e-mail or telephone.
Availing benefits is subject to the availibility on the day.
Hostel Wasabi's one night stay is limited to dormitories. You can choose to stay in a private room by paying the difference with the dormitory fee (on the day).
The first point card can be used as it is within the expiration date. Please note that you cannot carry over points to the second card.
The days you cannot use the points are Friday, Saturday, days before public holidays, April 1st – 15th, April 27th – May 5th, August 11th – 16th and December 20th – January 5th.
Please note that the point card will not be stamped while using the Night Bus VIP Liner`s Optional Plan "Hostel Wasabi 1night Plan".
The free night reward is one time only. If you rearrange or cancel the reservation later on, the reward will be invalid.
first edition