WASABI POINT CARD

If you stay for 5 nights or more at Hostel WASABI, we offer free one-way overnight bus "VIP Liner" ticket(s)! This campaign meets the demands of many travelers who want to save on travel expenses!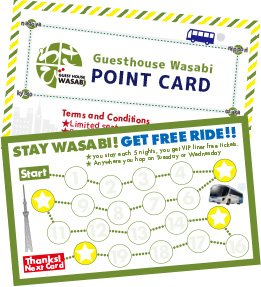 Example of use
Stay for 5 nights at Hostel WASABI Nippori.
Reserve one-way overnight bus for free at the front desk.
Ride the overnight VIP Liner bus from Tokyo to Osaka for free.
After moving from Tokyo to Osaka, you can stay at Hostel WASABI Osaka to collect more stamps!
Note
We distribute point cards at all Hostel WASABI branches.
When the point card is issued, only bookings made through our homepage, telephone, or at the front desk is eligible for stamps after the first stamp.
(Only the first stamp is eligible for bookings through any booking site.)
You can ride the overnight bus that runs between the Kanto and Kansai area as well as the Kanto and Nagoya area.
Bus reservations must be made at the reception of any WASABI branches.
Only for departures on Tuesdays or Wednesdays; This offer is not subject to Tuesdays and Wednesdays on holidays.
Only the 4 row seat bus can be taken. Also, you cannot choose the bus type.
Limited number of seats available.
For those that will stay at Hostel Wasabi via VIP liner night bus' option plan, '1 night stay at Hostel Wasabi', is not eligible for stamps.
Please note that reservations will be made at normal rates as it will be impossible to use the free benefit if reservation is changed or canceled after reservation of the bus and another reservation is made.